Dog of the Month for November Soldier
About Soldier;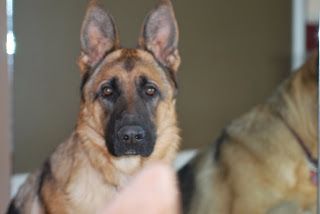 Soldier is a wild and crazy German Shepherd Dog. He was born on October 15th 2007. He just celebrated his 2nd Birthday!! He has sure grown up since his first visit to Ruffledale when he was barely a year old. Soldier's favorite days are days that he gets to come play with all of his friends here at Ruffledale (dog's and people). When he gets here we each get a very energetic greeting from a very excited Soldier. Soldier loves to be outside and spends a lot of his day here at Ruffledale getting his friends to chase him outside so they can play out there. He also likes to take things from the people at Ruffledale and get them to chase him outside too!! He loves to be the center of attention while he is here and being chased is his favorite way to spend the day!
Soldier loves to play Soccer. He guides the Soccer ball with his front legs and nose. The Soccer Ball is his favorite toy. Soldier loves to be around everyone. Soldier especially loves Children. He is always very gentle with them, even though he is big and energetic! Although Soldier pretty much loves all people and dogs, he is not very fond of going to the Vet. He could definitely do without those visits. He especially doesn't appreciate when he needs ANY kind of Ear Treatment…..those are Soldier's personal torture! But if you just give him a little scratch on his neck or right above his tail he will forget all about the mean Ear stuff!
Soldier came from the mountains in Colorado. His new Dad picked him up and drove him home. His new Dad picked him out of all of the other Puppies because he was the only one who wasn't scared of his big scary dog Dad. (Even his new human Dad was respectful of his Dog Dad!) All of the puppies were nervous about their Dad, but Soldier trotted right up to him and licked his face!! His new human Dad figured that a confident puppy would be more people friendly and wouldn't "fear-bite." Soldier's confidence has definitely worked out in that way. He loves everyone and is completely sure that everyone loves him too!!! In the hotel on the drive home he got to sleep on his new human Dad's bed in his little blue crate. Now that he is older he sleeps in his crate right in the bedroom. He never once cried in his crate when he was a baby and slept all through the night. The only scary thing for Soldier in his new home was learning how to use the stairs. He needed to use the wall to help him keep his balance while bravely went down the stairs one at a time! Soldier has now mastered going up and down the stairs.