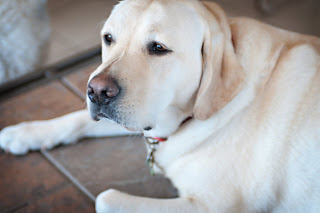 Brooke is a very special Labrador Retriever. She was born on November 27th 2006. That makes her a Sagittarius pup just like Disney's Goofy!!!! Brooke loves CHEESE and her Raccoon whip. Her best attention getting tricks are "crawl" and she is also great at weaving in between her big sister, Sam's, legs! Brooke loves to retrieve. Water is her favorite play place and she is happy to play all day fetching anything from the water. Her first experience with water was a trip in July of 2007 with her family to Mirror Lake that is when she discovered her love of water retrieving!
An ideal day for Brooke would be as follows: Wake up at 7 am and get breakfast. After a quick trip out back, she would go out to get the newspaper. Before returning to the house with the paper she would run around the cul-de-sac. After dropping the newspaper at the foyer, she would eat her treats in second speed. Next, she would jump in the car with her ears flapping in the wind as she rides to Ruffledale. After hours of "crazy puppy" she would return home for her dinner and an endless game of ball. For the rest of the night she would be given cookies and cheese mixed in with the occasional nap. She would retire the night sleeping next to her sister Sam.
Brooke is great at knowing when someone is feeling down. She is such a lover and is always willing to share a few extra kisses and love when it is needed. Her favorite friends at daycare are; Soldier, Barley, Lilie, Cocoa and Grady. There are certain words in Brooke's vocabulary that she knows by heart, these include: Dinner, Walk, Cheese, Bed, Ride, Kennel, Swim, Come, Play, Newspaper and Run. If you say any of these words, you will be expected to deliver.