December Dogs of the Month; Kayzer & Peso
About Kayzer and Peso: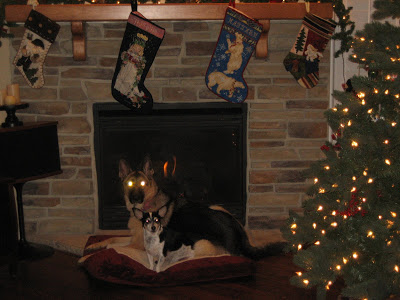 Kayzer and Peso are such a silly pair! Kayzer is a year and a half old German Shepherd who is "wild" and "crazy." Peso was a rescued pooch. His family thinks he was born in about 1999, which would make him around 11 years old! Peso still thinks he is a young guy though and Kayzer has revived his youthfulness! Peso is a small breed terrier mix. Since Kayzer is such a crazy girl, she comes regularly to daycare to help her burn off all that puppy energy. She loves to play with all of her doggie friends and is such a doll with her people friends here at daycare. She is so sweet and is always full of kisses for everyone. Peso usually stays home and takes naps during daycare visits, but we still get to see him when he comes for sleepovers. We all could see the way Kayzer grew on Peso as his family had her longer. At first they would sleep in separate bedrooms, but now Peso always wants to be with Kayzer (even if it's right in the middle of the craziest puppy playing!).
Peso has a special "squirrel" that is his favorite toy at home. Kayzer is much less specific and will enjoy any toy that squeaks. Kayzer loves it when her family treats her to her favorite thing to eat, a rawhide! Mmm. Peso prefers "Lick-N-Crunch" treats. Kayzer and Peso both have very silly tricks. Kayzer's specialty is "be shy" and "stick em' up." Peso will "say please" for anything you ask him too. Peso really hates having his face blown in, and Kayzer definitely doesn't like when the doorbell rings. Kayzer was just a little girl when she went home to her new family. She was so happy to meet everyone, especially Peso. Kayzer was so excited to meet her new brother that she was a little over boisterous. She had to be separated from him for a little while so she could calm down and not trample poor Peso. Peso was not as impressed with his new sister, but he has grown to love her. Since Peso was a rescue, he was a little older when he came to live with his family. When Peso first came home from the adoption at the mall he ran strait into the sliding glass door! He was so excited to finally have a family and a real bed to sleep in.Although Peso still likes beds, he has now decided the best place to sleep is in his Mom or Dad's lap! Silly Peso.
Everyone here at Ruffledale has really enjoyed getting to know Kayzer and Peso. Kayzer is gone for some doggie boot camp training right now so we will all miss her for the next couple of weeks. But thankfully we will get to see Peso for a sleep over soon! Kayzer will be home in time for Christmas so her and Peso will get to be together for the holdidays. They are both such sweet hearts. We all have loved watching the way they've grown. Kayzer will melt if you scratch her tummy and she has made lots of friends through tummy rubs. Peso is happy if you just pet his face and ears. Much love to our lovable pair!