"Dogs' lives are too short. Their only fault, really." – -Agnes Sligh Turnbull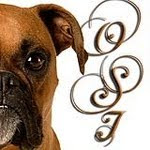 On April 27th 2010, we lost one of our most beloved daycare friends, Osi. Osi was a two year old boxer that attended daycare regularly. She not only warmed the hearts of all the human friends she came in contact with, she also made best-friends with over half of the dogs that attend Ruffledale. She loved every dog and never discriminated against any of them, she loved the big and small ones, the old and young ones, the skinny and chubby ones, there was not one dog that Osi didn't welcome with open paws. She would greet each dog when they came through the gate, and the ones she really liked she would kiss over and over.
Osi had a special love for life, her happy spirit was infectious and when she was at daycare she brightened our days. We would laugh sometimes after watching her play and we decided she sometimes forgot she was a boxer, she didn't have the "Know-it-all" attitude that most boxers possess. Her time here was short, but her life was filled with joy and happiness and she never had to suffer any pain from growing old.
We will miss her kisses and getting to kiss her, we will miss seeing her charge through the door to play anxiously, we will miss seeing her play with all of her best friends, we will miss seeing her trot out the door exhausted from playing and excited to go home to see her family, we all will miss her greatly.
Our thoughts and prayers go out to her family, we know you loved Osiand will miss her. Thank you for letting us be a part of her life and we will hold her in our hearts forever.