A Tribute to Naughty Dogs!!!
So today I was just hanging out at home, I came wandering down the stairs to find my 8 year old lab on top of my counter. Which is about waist level to me. She is a average size lab, she weighs about 56 pounds, so you can imagine my surprise to see her just hanging out up there. Luckily I had my phone in my hand, so I hurried and snapped a shot of her up there, so I could prove it to all the disbelievers. Which there will be some, because at daycare everyone talks about how well behaved and sweet my Dakota is, but really she is super naughty, and really always has been. The thing that makes me laugh is I have another lab named Kenna. She is the well behaved one at home, but at daycare she is super naughty. So all the girls at work think that I am crazy when I tell them how naughty Dakota is. Now I have evidence to prove it.
The picture is not the best quality, but if you look close she is casually standing there drinking my two year 
olds
sippy
 cup.
So after laughing at all the naughty things that puppies and dogs do, I decided that November and December should be a "Tribute" to all of our naughty dogs. If they were perfect how much fun could that possibly be.
Please everyone that is reading this and laughing thinking of all their pups, please e-mail your pics and stories to 
ruffledale@Yahoo.com
 so we can post them. THANK YOU 
TeAnna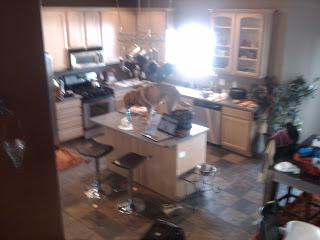 So to kick things off, I must post a picture of Ashley's Wedding cake. Ashley was one of our employees at Ruffledale, this summer she was married. She of course wanted all of the family dogs involved in the wedding process, they even were invited to her ceremony out of state. After realizing that bringing all the dogs along might not be that practical (all four range in size from about 40lbs to 140lbs). They decided that they would leave them home, but they were involved in the reception at home.
This is a picture of Ashley's wedding cake after Charlie(the families 140lb great dane mix) decided to try it out before all the guests got to.