Dogs of the Month for October BRANDI AND BOZLEY!!!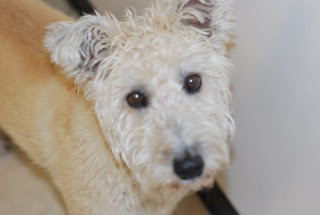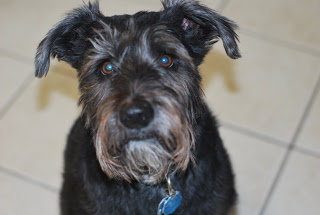 About Brandy and Bozley:
Brandy and Bozley are two very special mixed breed pooches. Bozley is a Standard Schnauzer mix and Brandy is a Terrier mix.  They both love each other and are a silly and sweet pair. We have known them here at Ruffledale for a long time. They've been around since early 2005! We always love seeing them and spending the day with them.  They like to chew on each other while they are here, and Brandy likes to pull poor Bozley around by his collar!  They love to eat human food treats such as Steak, Fish or Chicken.  Mmmm, that is the ideal doggie treat!
Brandy and Bozley love to go up to their parents cabin. They get to hike all day and have steak leftovers for dinner….Yum! Although they both love the cabin, Bozley is not very fond of hiking in the snow. One time his parents took him out in the snow, and he only got about 100 feet and he hightailed it back to the cabin where he knew he was safe and warm…Much better way to spend his afternoon.  Bozley and Brandy came to live with their parents at different times. Bozley was being Fostered in Millville and was excited to smell everything in his new home.  He went from room to room checking everything out. When Brandy came along, Bozley was a little shy and timid getting to know her. Brandy was delivered in the back of a pickup truck from Vernal.  It didn't take them long though before they became inseparable buddies.
One of Brandy's naughtiest tricks is climbing the fence. Bozley's best trick is "handshake." They both love to be petted and rubbed. Bozley's favorite spots are his belly and eyes. He will keep you there all day rubbing his belly if he can. Brandy will actually move your hand to where she wants to be rubbed. She also loves to sit on your lap and "hug" you while she is there. When they are at Ruffledale Brandy has to meet and say Hi to everyone who comes in. Bozley is a little more shy and takes a minute to get to know people. But once he knows you he will wag his little stubby tail and his whole bum will wag around with it!